Online classes in Corona time
From the 1st of June we will offer two online solo dancing courses on Zoom:
Tranky Doo
The Tranky Doo is one of the most famous solo routines in the Lindy-Hop world. Check out a version of Harlem Hotshots:
In the last few weeks we have taught the Tranky Doo to a group of our regular students, and figured out an online format that works for many:
Instructions videos available any time
When you register you get access to a set of instruction videos that break down the Tranky Doo from start to finish. That includes practice videos, where you can dance along on different speeds. In principle, you could learn the Tranky Doo completely from these videos.
Weekly online interactive meetings
To help you practice, we also offer a weekly meeting with a teacher, where you can practice together with others, clear up things that are unclear, and fine-tune your movement. It also is a chance to interact with the people you miss meeting on the dance floor, and have some drinks after class!
In the last classes you will get the chance to send a video of yourself dancing, so we can address the most important points of improvement and give some personal feedback. Find out more about the schedule and registration here.
Solo Improvisation
Always wanted to join one of those jams or contests, but not sure how to? (Such as this super-pro example) This is your chance to get more comfortable with dancing by yourself and increase your vocabulary! Solo dancing will also improve your partner dancing, because it provides a chance to focus on the quality of your movement and makes you familiar with a whole range of footwork variations to throw in at any time.
In this course we will explore familiar shapes and moves, and see how we can vary with them endlessly, and how you can give your own twist to all the classics. Find out more about the schedule and registration here.
Regular (pre-Corona) Curriculum
Here you find an overview of our curriculum, and your potential route through our courses. New courses start every September, November, February and April, so each year contains 4 blocks. You can start with the first course (Lindy 1) at any of those times.
Below you'll find more detailed descriptions of each of those courses, so you can make a good choice. We don't teach each of the courses listed below in every block, have a look at the schedule to see which courses are offered right now.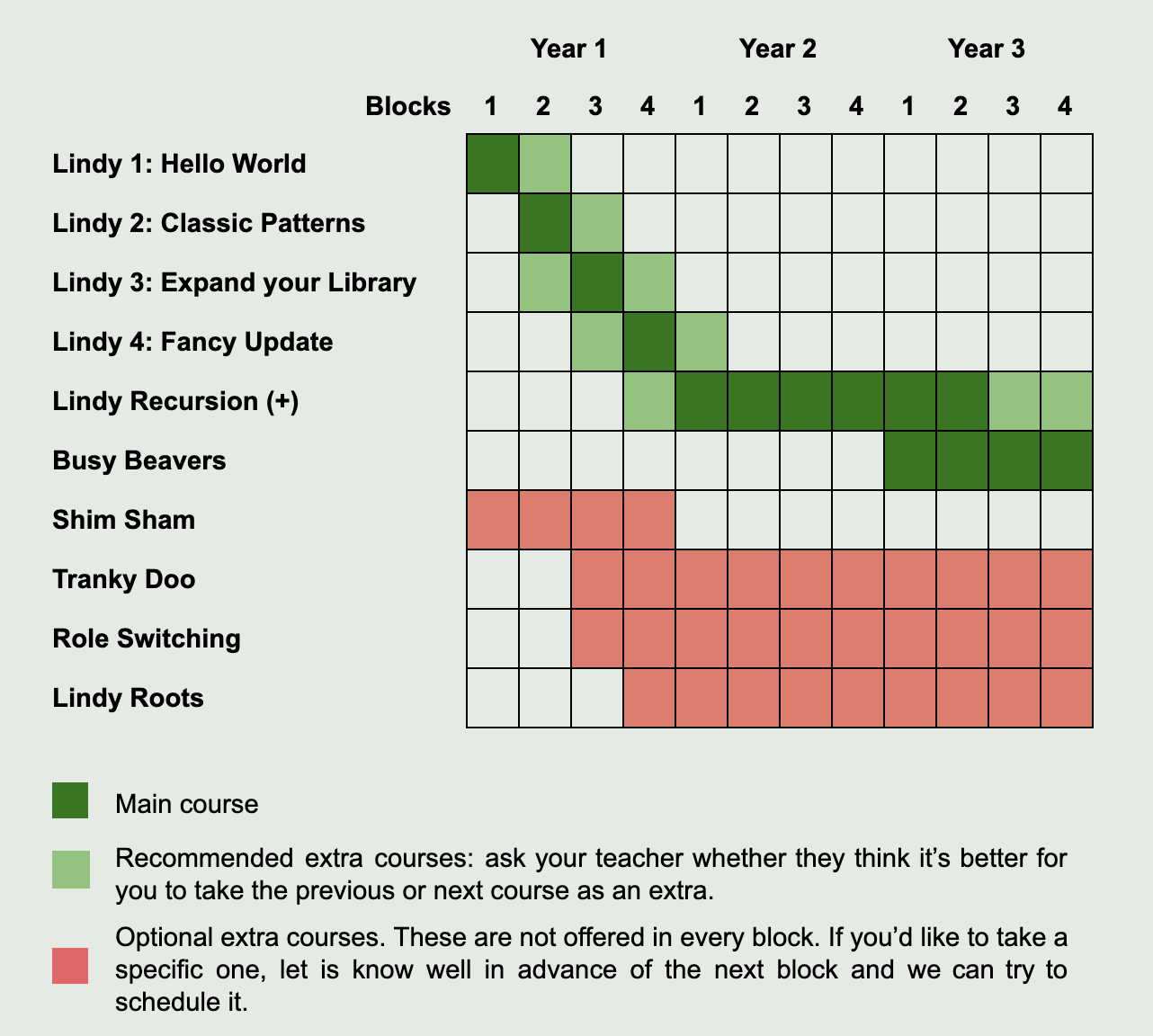 Main course
The curriculum for the first year is fixed, it consists of 4 courses: Lindy 1 – 4. After that, in Lindy Recursion, a variety of topics will be taught, depending on the students in the course.
Extra's
Besides the main courses, you can take a level higher or lower, ask your teacher for recommendations.
Some of the block we also offer other courses, e.g. solo and partner routines or a role switching class. See the scheme on the left for recommendations about when to take the extra courses.
In addition to this, we organise extra activities, such as practice sessions, summer classes and our annual festival Ceuvel Swing Camp.